The afternoon knock-out phase of the 2015 Budapest Fives began with the Plate Quarter-Finals. There would be just 2 Quarter-Finals as Budapest Celtic Tigers had earned themselves a bye to the Semi-Finals courtesy of their 3rd placed finish in Group B. Additionally, Budapest Celtic Pumas had to withdraw due to injuries so Narnajitos earned a 3-0 walkover to get them through to the Semis.
First up on the pitch was Maverick FC versus 3 Lions FC on Pitch A. Pitch A had been home to Maverick FC but it had not been a happy home as they finished 5th in Group A. Despite this, their domestic UK form was good (see below) so hopefully they would be able to discover this form in the knock-out phase.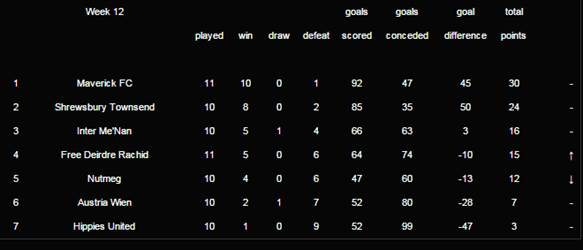 For 3 Lions FC this was their 2nd Plate Quarter-Final – 7 years after their first one. On that occasion, in the 2008 Barca Fives, they won it 4-1 versus CSF (who are 4 times Plate Winners) and went all the way to the Plate Final. A repeat would do them just nicely here.
It looked good for the English 3 Lions as they opened up a 3-1 lead by half-time thanks to a goal from Konrad Chrzanowski and 2 from Andy Sproat. For Maverick FC, wearing a Dutch lion on their shirts, a goal from Sean Barwick kept them in the hunt.
When Taranjit Panesar made it 4-1 to 3 Lions FC in the second half the tie was over and it was 3 Lions FC who would progress to the Semi-Finals.
It was farewell to Maverick FC on the pitch who summed up their day with the motif "If goals were beers…."